The entrance to the emergency room at UCSD Medical Center-Hillcrest is backed up by patients returning to the ER for multiple visits in the same day or week. A man suffering from schizoaffective disorder ran out of his medications, a woman crashed her rental car after being released and seeking narcotics, and an intoxicated man asking for pain killers and food. Physicians and staff battle burnout when dealing with "frequent flyers" and balancing the needs of life threatening emergencies. "You have to take it seriously" says Dr. James Dunford. "No one wants to be held accountable for a wrongful death".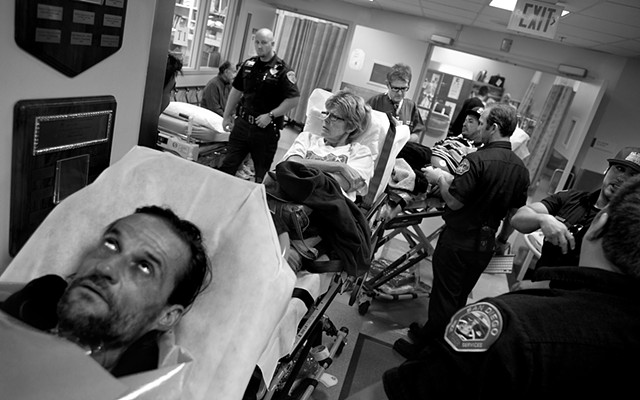 James Gregg is a photographer and editor based in Austin, Texas, currently serving as the Deputy Director of Video and Photography at the Austin American-Statesman. Previously he was a staff photographer at the San Diego Union-Tribune, specializing in video and multimedia. In 2009 he was named NPPA's Best of Photojournalism Photographer of the Year for smaller markets while at the Arizona Daily Star, and was Arizona Photographer of the Year in 2008 and 2009. In 2010, James started working with video in addition to still photography, he is a 9-time regional Emmy award recipient. Additionally, 2012 brought two awards for multimedia from Pictures of the Year International and one for NPPA's Best of Photojournalism. In 2013, "Health Care 911", an interactive Ipad project, was the winner of Pictures of the Year International's Best eBook, as well as runner up for Best of Photojournalism's Tablet/Mobile Delivery Project. Download "Health Care 911" on the ipad here: http://bit.ly/13oqDiT
James is bilingual, majoring in Spanish and Latin American Studies at the University of Kansas, and has lived in Ecuador and Costa Rica.